Locust Pose(Shalvasana):
'Shalav' means Grasshopper/Locust. The body takes the form of 'insect' in this pose. That's why this pose is named as Shalvasana ( Shalav+ Asana ) or Locust Pose.
Methods:
Lie on your front (upside down) on a soft plain uniform yoga mat or surface. Keep your shoulders, chest and abdomen aligned to the ground. Your hands should also be kept aligned alongside your waistline, forehead should be stuck-up with the ground in line with your shoulders, chest, abdomen and waist.
Now raise your leg from the ankles up to the thighs without bending your knees ( in full locust pose). In half locust pose you have to raise one leg only while keeping the other leg stuck aligned in line with the ground.
Inhale while you raise your leg(s), hold breath when needed and breath normally in raised leg(s) position. Stay for 5 – 10 seconds and bring down your leg(s) to the ground while you exhale as needed.
Practice up to 3 – 4 times. After each practice take rest as in Corpse poses (upward or downward as you feel comfortable).
Can be termed as Easy Locust Pose (Above)….
Can be termed as one Easy Locust Pose (Above)….

Half Locust Pose (Above)
Those having heart problems should stay away from practicing Locust Pose. I personally do not practice this. Instead, I practice Bow Pose followed by Circle Pose.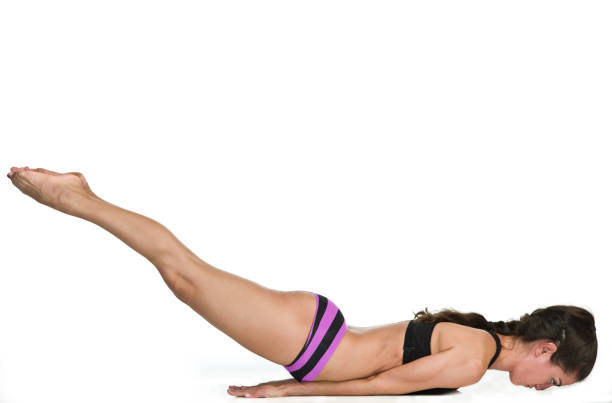 Full-Fledged Locust Pose ( Courtesy: Getty Images )
Precautions : 
This pose exerts pressure on the lungs and the heart. So those having weakness or problems with lugs and heart should avoid this yoga pose.
Practice the easy and soft poses before you go for the perfect and 'difficult' ones.
You can practice Half-Locust poses as well initially.
Benefits :
It helps the Diaphragm function well, thus helps the Heart and Digestive system work better.
It makes the muscles of the abdomen and thighs stronger.
Helps recover sciatica and rheumatism of the waist and lower lumbar areas
Helps increase digestion, bloating, and constipation
Helps relieve pains during menstruation
Helps adrenalin gland function well.
Those 
I don't practice Locust Pose after Cobra Pose. Instead I practice Bow Pose after Cobra Pose and if possible I also practice Wheel Pose after Cobra Pose. After medical check up if anyone find that they have lungs and heart problems they can avoid Locust Pose and do like me as said above.